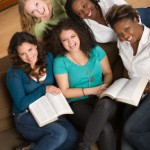 Last year, we had a ton of fun putting together a Back to School Blitz to get you ready for school. In case you missed our blitz, we thought it would be fun to share the links with you again. Whether you're nervous about starting at a new school, finding the perfect items to decorate your locker, making new friends, or keeping track of everything you need, Girls With Dreams has you covered! Check out our fun back to school videos and blogs!
Back to School Blitz videos and blogs
Lunch Tables: Dealing with Awkward Cafeteria Moments
Video: How Your Freshman Year Can Make or Break Your GPA
Video: How to Deal With Peer Pressure
How to Find Great Back to  School Fashion and Styles
If you want to learn how to switch up outfits, you can check out my blog on "Revamping your closet."
Decorate your dorm, your bedroom, but don't forget your closet!
Color coordinate your closet. It makes it look more colorful and it's easier to get dressed when you want to go out.
Organize by sleeve length if you really want to go all out.
Use clear containers/ buckets to store clothes and make your closet more organized.
Put long sleeve shirts/jeans away in summer & vice versa for winter.
Occasionally go through your closet to get rid of clothes you do not wear. If you haven't worn them in months, you probably won't wear them again.
Trade in old clothes at Plato's Closet or a resale shop in your area.
Something cool to do is to take out your doors and put curtains in place of them.
You can a mirror/multiple mirrors and put them on your closet doors
Whatever you do, make it your own. Stick to two or three colors and use a theme.
New year of school equals new boys… sometimes old ones.
I'm about to head off to college, and I know I'll be meeting a lot of new friends. This summer has made me realize that you have to be careful about who you trust. Not everybody is who they seem or who they act like.
You have to find out about a guy before anything serious. This won't necessarily happen to everybody but It's something to look out for… something I've noticed lately is when the upperclassmen boys get interested in younger girls during the new school year.
I'm not saying every guy is a bad guy, but I hope all girls take the time to get to know someone they're talking to or trying to date. It's worth the effort.
On another note, I've learned from experience… you can't always give everybody the benefit of the doubt. If a guy is treating you badly, don't stick around.
Every girl can be confident and independent. There's much more to life than only dating.
Dating is a plus, but please understand that you have your whole life ahead of you. Keep fighting for your dreams and be successful.
Everyone starts dating at a certain age, some don't want a boyfriend till they are 16 or 18 and some try to find a guy at 12. Everyone is different so if you are in the 8th grade and have never had a boyfriend… THAT IS OK! There is nothing wrong with that. I think girls all the time make it seem like it's bad but it's not, it's totally fine.
Most important, stay true to yourself.  Too many girls who don't have a boyfriend try to be someone they are not by trying to be the girl that they think boys will like.  This helps no one.  If you can surround yourself with good friends and stay involved with activities that make you feel good, you'll eventually find the right guy!
Find whatever you are comfortable with and go from there, just don't do something because everyone else is.
Back to school: clubs, sports, academics. Where to start and where to end? Sometimes you have to pick and choose which activities are worth it in your schedule. You can't take on everything you've offered… It'll be too much stress. You shouldn't necessary join every club you can.
It might be better to join a few clubs you really like (or might be interested in) and focus on getting further in those.
I strongly encourage everybody to go for a big role. Don't be afraid to run for president of a club or try to be captain of a sports team.
Taking on big roles gives you experience. It gives you confidence, and people are always impressed to hear what you've done so far in your life. It's great to put on a resume or mention in an interview for a job.
One thing I did this year was run for an officer position in a club at school, DECA. Three people were chosen to be officers, and I expected to share the workload with my fellow officers. Things came up, and some officers graduated earlier. The position of president kind of got thrown on me, unexpectedly. I didn't ask for it nor want it, but I learned to lead people and organize events. Most of all, I gained experience doing something.
Experience will get you anywhere. Sometimes you're going to be scared, but you have to step up. It's worth it in the end. You can get all sorts of scholarships for leadership.
Take the role!
There are so many places to get involved so you can meet new friends and help yourself feel good.
– Look at your school! Find clubs that you are interested in and see what they are doing, just because you go to a meeting doesn't mean you have to commit. First see if it is something you are interested in.
– Look online!  Go to http://www.dosomething.org they have way you can volunteer and they have stories of what other kids do with their time.
– Get involved with a community group.  Find a local church or synagogue, volunteer at a food pantry, or join a youth group. 
– Create your own club! If you have a desire for something then start your own club! Maybe someone else likes it as much as you and can't find a way to get involved either.
– Help Girls With Dreams! We have stuff you can do from home and you can be helping other girls out there!  Just send us an email at info@girlswithdreams.com to find out more!
Meetings, classes, sports practice, exams… We all know that when the school year comes around, everyone's schedule gets twice as busy. You might be struggling to keep up with your school work, but staying organized will ensure that you do well.
Using a planner, calendars, and post-its are a great way to keep things straight. My school days get packed: meeting in the morning, hard classes, meeting after school, then work. The easiest way for me to stay organized is to use google docs!
If you have a gmail account, you can use Google Docs as a word processor. You can write your essays in program (which is built into your e-mail), edit it right there, and attach it to send in an e-mail to your teacher/friend/etc.
You can insert tables & presentations (like powerpoint).
You can create forms like excel. Google Docs gives you the opportunity to draw, write, and organize them into your own personal folders.
Check it out for a way to make your life simpler and more organized.
As many of us are heading back to school whether it be middle school, high school, or college we all will have to deal with peer pressure. But the question is where will you stand when it's happening? Will you be the one being peer pressured to smoke that cigarette? Take a drink of the alcohol? Or will you be the one doing the pressuring? Will you be joining in with everyone to make fun of someone and pressure them into something? Lets be honest…we all have been in both positions.
With this new school year starting up I challenge every teen girl to be supportive and stick up for what is right. Stick up for the girl who is being made fun of because she won't cheat on her test. Stick up for the girl who is getting made fun of because she won't drink or take it far with her boyfriend. We are all different and can make our own decisions, we don't need others trying to force them upon us. So this school year, take a stand against peer pressure.
The process of preparing to return to school is filled with mixed emotions. It's difficult to say goodbye to summer, but it's also fun to look forward to the start of a new year filled with new friends and new adventures.
We've planned a special Girls With Dreams Back to School Blitz week to help you have the best year yet. Check out our juicy tips and fun advice about everything from fashion to boys to achieving good grades! Watch for new posts and videos every day during our special Back to School Blitz from August 2-7.
Monday: How to Be Yourself and Deal with Peer Pressure
Tuesday: Fabulous Fashion Trends
Wednesday: How to be Organized and Stay Organized – If you're in St. Louis, check out Great Day St. Louis on KMOV at 10:00 a.m. Girls With Dreams will share tips about how to have a successful school year.
Thursday: Getting Involved at School: How to Find Things You Love to Do.
Friday: Dating, Dating, Dating!
Saturday: Decorating Your Locker and Bedroom
With school starting, I'm a little nervous to meet people. I am more excited than anything though. The school year is a fresh start, but you should stay true to who you are.
I'm excited to be around these 15,000 strangers who know nothing about me. I guess I've done a lot of growing up in high school, because I know who I am now.  It's strange being separated from a group of people I've known for the past four years.
I've learned to be myself and if my friends accept that, great. If people don't accept who I am, then they're not really my friends. I wasn't always accepting of this: I didn't always understand that not everybody will want to be your friend.
When I was elementary school, I was teased nonstop for being a different race. I never got upset. I just got angry, and I started to become the bully. I think I tried extra hard to fit in and be the best during elementary school, because I set these walls up so people wouldn't make fun of me.
My friends would make fun of everyone they could. They were the "popular group," and I felt like I should do the same. It was a never-ending battle to fit in. I've grown up now, been reunited with a lot of those people I used to make fun of. So many of those people are friends who I couldn't live without now.
You never truly know someone until you get to know them.
You have to give people chances, and you can't change yourself just because someone else wants you to.
So, as you get ready to go back to school, remember to stay true to yourself but be open to meeting lots of new friends!  Make sure you check our website every day this week August 2-7 for more great Back To School Topics!