Speaking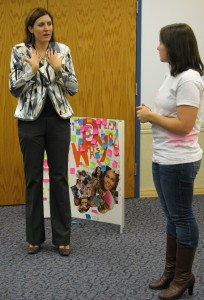 Carrie has a variety of workshops and talks available for teens and parents. Workshops and talks vary in length from one hour to multiple days.   For more information please contact carrie@girlswithdreams.com.
Carrie loves to personalize her workshops and talks to meet your needs.
These are a list of the most frequently requested topics for teens:
Secrets Girls Keep: What Girls Hide (& Why) and How to Break the Stress of Silence
What Are You Texting?  Tech Tips  Every Teen Needs to Know
Self-Esteem: Who's Got It and How Do I Get It?
Mean Girls:  Which Side Are You On?
If You Dream It, You Can Do It!
Stand Up For Yourself: Real Skills for Teen Girls' Everyday Problems
Finding Your Strengths and Planning for Your Future
These are the most requested workshops and talks for parents:
Keeping Girls Safe: How to Help Her with Peer Pressure, Drinking, and Bullies
What's My Teen Texting?  Tips Every Parent Needs to Keep Their Kids Safe Online
Hiding Her Potential: Six Keys to Help Her Increase Self-Esteem, Confidence and Prepare to Lead
Secrets Girls Keep: What Girls Hide (& Why) and How to Deal With It
Secrets Teens Keep:  Improving Communication so Kids Will Listen