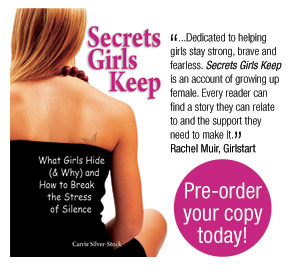 "Carrie Silver-Stock offers true, easy-to-tackle tips for teen girls to help them overcome some of the issues that affect them most—looks, boys, friends, and families." Read more
"Wow! I couldn't put this book down! Based on the real-life stories and the tips on boys, college, and much more, I'd recommend this book to every girl I know!" – Riley, 17
"Carrie's book on self-esteem for teen girls is a masterpiece of inspiration and insight into how young women can choose to transform their lives. Using real-life examples, she reveals the secrets to how girls can courageously turn adolescence into an amazing growth experience that will lead them to become happy, healthy, and productive women, just like Carrie. I can't wait to get copies of her book for all the teenage girls in my life!" – Beth Crumbacher, school administrator
"The Powder Box Secrets is like a breath of fresh air, and a break from all the mixed messages that are thrown at girls these days." – Kate O'Toole, former editor-in-chief of Louie Magazine for St. Louis teens
"This book is filled with great advice, fun stories, and everything a teen girl wants to know." – Lauren, 13
"Carrie Silver-Stock offers true, easy-to-tackle tips for teen girls to help them overcome some of the issues that affect them most-looks, boys, friends, and families. This book is as insightful as it is inspiring and sends the message every teen girl should know: love yourself for who you are and the world will love you back. It is a must-read for teens, their parents, and their teachers. This book is just that important." – Leah Messina, owner and editor of BookDivas.com
"I love the real-life stories and examples from girls like me." – Melinda, 15
"The Powder Box Secrets is a heartfelt and engaging book about the possibilities that lie within each and every one of us. It is wonderful to be you, and important to love yourself! Carrie helps us each explore that person we see each day when we look in the mirror, and understand some of the crazy thoughts that go through our heads as we cope with who we really are on the inside and out!" – Lizzy Dooley, high school field hockey coach
"As the host of www.WebSororityTalkRadio.com and a parent, I am always on the lookout for books that send a positive, empowering message to teen girls. The Powder Box Secrets should be required reading for every girl in middle and high school. Thank you,Carrie for sharing it with the world. It will make a huge difference to every girl who reads it." – Lynne Klippel host of www.lynneklippel.com
We are excited to announce our 2008-09 Book Tour. Contact us about coming to your city.
Here's a list of our stops. Stay posted, though. We'll be adding more cities soon
Milwaukee
Chicago
Boston
New York
Boston
Austin
San Francisco
Denver
San Diego
Contact us about Carrie's interactive workshop:
How To Stand Up For Yourself: Real Skills for Teen Girls' Everyday Problems:
Give the girls in your classroom or group the confidence they need to think for themselves. We all worry about our teens safety today. We all ask ourselves if we are we preparing teen girls to lead. When they are faced with peer pressure, getting good grades, or being put in harm's way, we want to know they will have the ability and confidence to make good decisions regardless of what their peers think.
Contact us for more information at info@girlswithdreams.com.
Want to learn more about the topics discussed in The Powder Box Secrets? Here are all of the resources listed in each chapter. After exploring each site, let us know which ones were the most helpful or eye-opening to you and why.
http://www.ewg.org/reports/skindeep/
The Environmental Working Group shares news about the safety of common beauty products.
www.edap.org
The National Eating Disorders Association is dedicated to expanding public understanding and prevention of eating disorders and promoting access to quality treatment for those affected.
www.breakthecycle.org
This site is dedicated to raising awareness about the cycle of domestic violence.
www.girlswithdreams.com
Read stories, find resources, and talk to other girls about dating and relationships.
www.loveisnotabuse.com
This site provides information about teen dating violence.
www.loveisrespect.org
The National Teen Dating Abuse Helpline offers support and information to help understand dating abuse.
www.ndvh.org/help/teen-help.html
The National Domestic Violence Hotline
www.safeyouth.org/scripts/teens/dating.asp
The National Youth Violence Prevention Center
www.seeitandstopit.org
This site is dedicated to stopping violence in relationships.
www.teenrelationships.org
This site for teens and by teens provides information about relationships.
www.uhavetheright.net
This site offers dating violence information.
www.womenslaw.org/teens.htm
This site includes general and legal information about teen dating violence.
GAY AND LESBIAN RESOURCES
Wendy L. Sheppard, MSW, a contributor to this chapter, is a professional life coach and therapist specializing in the lesbian community and women with eating disorders. She has been featured as a parenting expert on TLC's series Surviving Motherhood. She lives with her son, her partner, and their dog in a suburb of Philadelphia. Ms. Sheppard can be contacted by e-mail at wlsheppard@verizon.net. She welcomes questions from parents and teenagers who are struggling with their sexuality.
www.AdvocatesForYouth.org
This site has a section dedicated to LGBTQ (lesbian, gay, bisexual, transgender/transsexual/two-spirited, queer/questioning) youth as well as information for parents.
www.GayTeens.org
This site provides support and information for young people and their families, and for those who are unsure of their sexuality.
www.OutProud.org
This is the site of the National Coalition for gay, lesbian, bisexual, and transgender youth.
www.PFLAG.org
This is the site for Parents, Families, and Friends of Lesbians and Gays with local chapters nationwide.
www.WeAreFamilyToo.net
Read and submit your stories here.
CHAPTER 3: BEST FRIENDS OR WORST ENEMIES?

www.cyberbullyhelp.com
This site provides resources about cyberbullying.
www.cyberbully.org
This site shares resources to promote safe use of the Internet.
www.cybertipline.com
This site handles leads from individuals reporting the sexual exploitation of children.
www.girlswithdreams.com
This site provides a forum for meeting new friends from all over the world.
www.ryanpatrickhalligan.org
This site is in memory of Ryan Patrick Halligan, a young man who lost his life because of bullying.
www.safeyouth.org
This site is a central source of information on violence prevention and intervention.
CHAPTER 4: FUNKY FAMILY STUFF
www.childhelpusa.org
This site is dedicated to meeting the physical, emotional, educational and spiritual needs of abused and neglected children. You can also call (800) 4-A-CHILD.
www.rainn.org
This site is the rape, abuse, and incest national network. You can also call (800) 656-HOPE.
National Domestic Violence Hotline: 1-800-799-SAFE (7233)
CHAPTER 5: DEALING WITH SCHOOL, NOW AND BEYOND
HOMESCHOOLING
www.nhen.org
The National Home School Education Network
LEARNING DISABILITIES
www.ldaamerica.org
Learning Disabilities Association of America is a national organization of parents, professionals, and individuals with learning disabilities that promotes advocacy, education, and research into the causes of learning disabilities.
www.ldonline.org
Learning Disabilities Online is a leading site on learning disabilities, learning disorders, and their differences.
www.ncld.org
The National Center for Learning Disabilities provides essential information to parents, professionals, and individuals with learning disabilities.
DROPPING OUT
www.cetweb.org
The Center for Employment Training is one of the country's largest and most effective educational and employment training programs.
http://jobcorps.dol.gov/about.htm
Job Corps is a no-cost education and vocational training program administered by the U.S. Department of Labor that helps people ages 16 to 24 get better jobs, make more money, and take control of their lives.
www.youthbuild.org
In YouthBuild USA programs, low-income people ages 16 to 24 work toward their GED or high school diploma, learn job skills and serve their communities by building affordable housing and transforming their own lives and roles in society.
www.4troubledteens.com/failing-school.html
This organization works with teens and their parents to find a solution to dropping out.
COLLEGE
www.campustours.com
This site compiles the virtual tours for campuses around the United States.
www.collegeboard.com
This site offers online SAT registration and other college information.
www.collegenet.com
This guide to colleges, universities, and graduate programs provides information on college admissions, links to academic resources, and online applications.
www.commonapp.org
This site leads you to the recommended admission form for 298 undergraduate programs at selective colleges and universities.
www.finaid.org
This site offers financial aid information about college.
www.princetonreview.com
This site explores schools and careers, prepares you for standardized tests and entrance exams, and researches scholarships and financial aid options and more.
FINDING YOUR STRENGTHS
www.accelerated-learning.net
Take a free quiz at this site to see which of Howard Gardner's multiple intelligences are most like you.
www.girlswithdreams.com
Need we say more? This amazing site is what we're all about!
www.kolbe.com
Discover your natural abilities and instinctive talents with the online quiz at this site.
MONEY
www.richdadpoordad.com
This site founded by Robert T. Kiyosaki is a great resource about money.
CHAPTER 6: HANDLING THE TOUGH STUFF

DEPRESSION AND SUICIDE
www.afsp.org
The American Foundation for Suicide Prevention
www.helpguide.org/mental/depression_teen.htm
This is a nonprofit resource with information about depression.
www.kuto.org
Kids under Twenty-One is a nonprofit agency helping kids deal with depression, anxiety and loneliness.
www.yellowribbon.org
The International Suicide Prevention Program
Suicide Hotline: (800) 273-TALK (8255)
DRUGS AND ALCOHOL
www.al-anon.alateen.org
This site offers hope and help to families and friends of alcoholics.
www.checkyourself.com
This site allows you to check to see where you are with drugs and alcohol.
www.freevibe.com
Explore a teen's approach to drugs, alcohol, and the medi
www.sadd.com
Students Against Drunk Driving
BODY IMAGE AND EATING DISORDERS
www.edap.org
This site is dedicated to expanding public understanding, preventing eating disorders and promoting access to quality treatment for those affected.
DATING VIOLENCE AND SEXUAL ABUSE
www.childhelpusa.org
This site is dedicated to meeting the physical, emotional, educational and spiritual needs of abused and neglected children. You can also call (800) 4-A-CHILD.
www.preventchildabuse.org
Prevent Child Abuse America was established to build a nationwide commitment to preventing all forms of child abuse. You can also call (312) 663-3520.
www.rainn.org
This site is the rape, abuse, and incest national network. You can also call (800) 656-HOPE.
National Domestic Violence Hotline: (800) 799-SAFE (7233)
www.teenpregnancy.org
This nonprofit organization offers statistics on adolescent pregnancy, poll results, and analyses of factors affecting teenage sexual behavior.
SEXUALLY TRANSMITTED DISEASES
National STD Hotline: (800) 227-8922
SELF-HARMING BEHAVIORS
www.selfinjury.com
Self.Abuse.Finally.Ends offers resources and information for self-injurers. You can also call (800) DONT-CUT (366-8288).
GRIEF AND LOSS
www.cancercare.org
This site offers professional support for people affected by cancer.
www.grievingchild.org
The Dougy Center for Grieving Children provides support in a safe place where children, teens and their families grieving a death can learn to cope.
www.kidskonnected.org
This site offers friendship, understanding, education, and support for children who have a parent with cancer or who have lost a parent to cancer.
It was an exciting evening for me last week in Los Angeles, California. I was there for the Book Expo and two award ceremonies. I was just thrilled to be a finalist and was speechless when The Powder Box Secrets won the 2008 Benjamin Franklin Award™ for the Best First Book Juvenile Non-Fiction category. The Benjamin Franklin Awards™ are sponsored by PMA, the Independent Book Publishers Association, and celebrate excellence in editorial and design for titles published in 2007. Judges for the Benjamin Franklin Awards come from all areas of the industry: major newspaper and trade media reviewers, bookstore and library buyers and reviewers, non-competing publishers, artists and writers.
The excitement continued the next evening when The Powder Box Secrets also won an award at the Independent Publisher ceremony for the non-fiction young adult category.
This truly is an honor and I am so grateful to everyone who helped achieve this, from the teen contributors and editors, to my mentors, to my friends and family, to the rest of my supporters!
This is an excerpt from The Powder Box Secrets: 7 Tips to Help Teen Girls Achieve Success
You're too fat. You're too thin.
You're wearing that?
Why did you do your hair that way?
Why can't I just look like her?
What's wrong with all of this? What's wrong with these questions?
I'm so tired of all of the lines we are fed through the media, our mouths, our images about what we're supposed to be.
We are all made differently so how could we expect to look like every ad we see? It's impossible. Imagine for a minute if we were judged by our heart and thoughts instead of by pounds and looks. How much more could we accomplish if we focused on who we were instead of what we looked like? I ask this question because I was one of those girls who obsessed about what she ate and became so focused on that, that very little else mattered. How do we know if what we see in the mirror is really the way we look?
Secret one: You gotta use your gut.
What is that little voice inside you telling you about beauty and about your unique beauty in particular? When do you feel most beautiful? Whom are you with, and what clothes are you wearing?
On the flip side, if that little voice inside you is telling you you're not beautiful, ignore it. No one is perfect. The important thing is to accept ourselves and not let our appearance keep us from achieving our dreams.
" I have good days and bad days. Sometimes I think I look really good, and other days I wonder who that ugly girl in the mirror is. I know I shouldn't think like that, so I've started to turn things around. Every time I start to feel ugly or hear my negative voice, I tell myself to stop. I try to remind myself to think about the things I like about myself. It's like working from the inside out. I have to change my view on the inside so I can feel beautiful on the outside."
-Emily, 14