Giveaway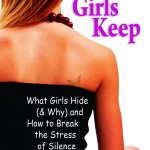 Thank You for Purchasing SECRETS GIRLS KEEP, by Carrie Silver-Stock! We appreciate your interest in teen girls and want to thank you.
We have 2 FREE Gifts for you! A special 3 part report on how to keep your kids and teens safe with technology and a downloadable poster from Girls With Dreams!
To receive your FREE copy of Tech Gadgets, Sexting, and Teens: Tips Every Parent Needs to Keep Your Kids Safe and the Girls With Dreams Manifesto Poster (perfect for the teen in your life), all you need to do is put your name and email in the box below and you will then receive your Free Stuff in your email box
And, we promise to keep your email private!!
Just for you, we have a very special bonus.  A pdf companion guide to the Secrets Girls Keep (a perfect self-help book for middle school and high school age girls).  If you haven't bought your book, yet, BUY IT HERE.