Learn how to keep your kids safe online and how to talk to them about online safety in an article by Carrie Silver-Stock on page 27 of the Bay Area Women's Journal Magazine. You can also access the magazine from the San Francisco Bay Area Women's Journal.


With the recent media attention of bullying and it's tragic effects, many parents and teachers are asking, what more can we do?   One simple and powerful thing adults can do is teach kids how to stand up to bullying.  Standing up against bullies doesn't need to be done alone.   Equally important, parents and teachers need to start teaching this at a young age.
Recently, we had an example of this in our own home.  One of my kids is in elementary school and he was having problems with a friend who he claimed was being mean to him.  From what he described, it sounded like bullying.  One of the solutions we talked about was getting his friends to ignore the bully or to stand up against the bully with him.  Just the other day I overheard him telling his brother how his situation turned out.  He said he got his friends to tell this particular person his meanness wasn't scaring anyone and wouldn't work.  In this case, the bullying stopped.  It doesn't always work out this way, but this is a powerful lesson we need to reiterate to our children from elementary school on.
Whether your child is the victim of the bullying or the witness or bystander, we need to talk to our kids abou thow to deal with bullies.  Let's say, your daughter (or son) is the victim of bullying, whether its name calling or even being left out of a party or an event (situational bullying) help your child find a solution where others stand next to your daughter or son against the bully.  For example, pretend every girl was invited to a sleepover party except for one girl in the class.   If a group of girls goes to the hostess and says we won't come to a party where someone is being excluded, most likely she'll change her mind.
We need to do better at teaching our kids how to take a stand against bullies.  If you have a story to share about this, we'd love to hear it!


One of the best ways to keep your kids safe online is by empowering them to make good choices.  Teaching our kids how to use technology safely isn't a one time discussion.  It starts as soon as they begin using the computer and it's important to continue educating and mentoring them.  Read more about how to keep your kids safe online in Carrie Silver-Stock's article in the Bay Area Women's Journal.
Attention Moms with pre-teen daughters! Are you feeling as though your daughter is growing up so quickly right before your eyes? Do you feel that your communication with your daughter could be better? If you answered "YES" to both of these questions than Girls in the Know is the perfect program for you and your daughter!
Girls in the Know is a non-profit organization designed to educate and empower mothers and their pre-teen daughters together.  Led by a group of women professionals, this month long speaker series meets weekly at various schools and discusses the following topics: positive self esteem, friendships, body image, nutrition, exercise, safety, and sex education.  The mission of Girls in the Know is to strengthen the mother-daughter bond while promoting positive self-esteem which will increase the likelihood of healthy behaviors and decisions as pre-teen girls mature into adulthood. If you would like to attend one of our upcoming speaker series or you would like more information about this wonderful mother/daughter program log on to the Girls in the Know website at www.GirlsintheKnow.org  or call 314-473-5685. 
Mark Your Calendars!!!  Girls in the Know is hosting the First Annual "Passport to Power" Mother/ Daughter Event which will be held Sunday, April 11, 2010 from 1-4pm at the Crowne Plaza Hotel in Clayton.  This fabulous event is available to all females, ages 5 years old and up.  The afternoon will offer empowering and dynamic speakers relating to girls and women, fabulous food, a variety of mother and daughter activities, and a silent auction with the ultimate goal of enriching the lives of all who attend. To register for the event log onto www.GirlsintheKnow.org and go to "Registration".   Come and enjoy this unique and fun-filled afternoon with your daughter!
Every parent struggles to find the right words to talk about health, safety, sex, and body image with her daughter.  I love Dr. Jennifer Ashton's new book, The Body Scoop for Girls.  Creating an atmosphere of trusted talk with our daughters is key, but so is giving them the right information they need to make good choices.   Girls feel empowered when they can balance quality information about their bodies with talking with their parents or a trusted adult.
The Body Scoop for Girls is one of those must read book for parents and their daughters.   Dr. Jennifer Ashton shares straight talk advice on important health topics for girls from puberty, periods, hormones, sex, body weight, mood disorders, and smoking, drinking, and drugs. 
The Body Scoop for Girls is written in a voice that girls will relate to and appreciate.  At the same time, parents will find it important to use as a basis for having conversations with their daughters.  Parents might want to use some of the same examples Dr. Ashton uses or even get ideas for how to talk about tough subjects from Dr. Ashton. 
Giving our daugthers information about their bodies is extremely important to them making safe, healthy choices for themselves.  Every parent and daugther will thank Dr. Ashton for sharing the straight talk in The Body Scoop on some topics that aren't always easy to talk about. 
If you'd like to read a teen review of the Body Scoop, you can see what Stevie, one of our teen advisors liked.  Make sure to get your copy own copy of The Body Scoop for Girls today!
Carrie Silver-Stock, teen expert and author, put together a list of Must Read books and online resources for parents of teens.  You can see the full list here.


Dr. Tim Jordan, M.D. shares his tips in his article, "Help! My Kid Has a Social Life! (Think Fast Before You Jump In)"
Wherever you are in the school year don't forget to also prepare yourselves emotionally to support your kids with their friendship issues. 
 
Ahh, friend issues, you know what I'm talking about. Teasing, bullying, exclusion, cliques, harassment, and "You're not in our club anymore!" are found in most classrooms in most schools and at most grade levels in one form or another.  
 
Parents often feel frustrated, angry, confused, helpless and powerless in these matters. We hurt right along with our kids. Worst case, several parents get in the middle of it and add to the drama.  
 
So, let me give you some suggestions, preventatively, before the action begins and the fur begins to fly, about effective ways to deal with your kids and their friendship issues. 
 
• Listen! Always listen, because your kids want and deserve to be heard and to have their feelings taken seriously. 
 
• Don't take on their feelings. Don't feel hurt, feel sorry for them, get angry, etc. Don't take it personally. Don't let it mean you are a bad parent.   
 
• Once your child feels heard and their feelings validated, turn the problem-solving over to them. "It sounds like you feel hurt by what Tommy said. What can you do about that? What have you tried? What's worked in the past?" 
 
Put the ball in their court, so they know they are responsible for their lives. And when they take an action and the situation is resolved, they completely own the results, which builds their social self confidence. 
 
• Don't overreact to their venting. When we are venting, we don't always mean exactly what we say, and neither do frustrated kids after a tough day at school. Hear their feelings and mirror them back. Some kids are dramatic by nature and embellish a lot. So know that about them. 
 
• Don't play emotional hot potato with them. This means you listen when kids vent about the actions of a kid that they "hate," and once they're done venting, they walk off feeling lighter and unburdened while you're left holding onto the feelings and wonder what to do about it. The next day you are still a worried wreck and your child is at school having lunch with that same kid having totally forgotten yesterday's battle. Don't take it on. Let things go. Your kids will. 
 
• Don't connect through pain. Parents who worry too much and overprotect too much and take on their child's emotions overdo it when their kids come home with friend struggles. Don't lead them on with questions that assume great hurts and misdeeds. Some kids will make up negative stories because they think that's what their parent wants to hear. It can become an unhealthy way to connect with each other, through pain. 
 
• Don't let your child's stories and struggles cause you to judge other kids and parents. This causes kids to not feel it's safe to tell you what's going on. Kids want you to listen and understand, not to judge or hold grudges. 
 
• Don't bring any of your emotional baggage into it. Our children's stories and struggles and pains can trigger memories and feelings in us. Unresolved anger, hurt, shame and fears can resurface, causing us to overreact to situations. Kids have enough on their plates handling their own, present-day social scenes. Adding our stuff makes it confusing and unmanageable. 
 
• Don't leap into your child's social pool and drown with them. Do listen, commiserate, and tell stories about your experiences growing up that might help them know you really do understand. Do be a sounding board that helps them problem solve and think things through. But stay detached emotionally. You've been through all the playground politics.  
 
It's their life now and their feelings and their lessons and their successes. The more you allow it to be their issue, the easier it becomes for them to figure things out and the more empowered they feel when things turn around. 
 
So even as you are packing their backpacks with supplies, their lunch bags with treats, and their closets with clothes, don't forget to pack your toolbox with ways to help you to support your child in successfully navigating through all the social ups and downs this school year. Have a great year!   
 
Dr. Tim Jordan and his wife, Anne Jordan, run personal growth weekend retreats and summer camps (Camp Weloki) for kids in grade school, middle school and high school and his private practice is in Chesterfield. To find out more, call (636) 530-1883 or go to www.weloki.com.
Dr. Tim Jordan M. D., shared this blog post with us, SEX ED 2.0:  When to have "the talk" with your child
For most parents, the big question is, "When do I have the birds and bees talk with my child?"
And therein lies a large part of the problem. It should never be just a talk, but a series of conversations over many years. And the 'sex' talks needs to be about so much more than anatomy.
If young children, i.e. 5-9-year-olds, ask what 'sex' is, I'd answer their question with a question: "What do you think it means?" They will tell what they've heard and what their own developmentally appropriate private logic is about the subject. Most times you can just affirm that- no need to start paging through anatomy books.
During elementary and middle school, parents should have lots of talks about intimacy as it relates to friends: how to be a good friend, deepen friendships, set boundaries, make good choices and how not to lose yourself in friendships.
Parents of middle school and high-schoolers can talk about being 'in integrity' with yourself. That involves knowing yourself and what's right for you and the difference between making a bad choice and feeling out of integrity versus making a good choice and feeling in integrity.
This involves talking through some of their past experiences with your kids. Did the alarm on their internal justice system ever go off, telling them something wasn't right? Did they follow their instinct and make a good choice or ignore it and make a bad choice? Why did they ignore it? What were the costs or benefits of their choices? What will they do differently next time? Encouraging kids to take care of themselves and be in integrity with themselves are critical pieces of sex education many parents forget.
Talking about sex also means supporting your kids in being happy, doing things that bring them joy and fulfillment, and parenting in ways that allow them to grow up feeling grounded and confident. If they love themselves and know they deserve the best and to be treated with respect, they will have clear and healthy boundaries. People with a high sense of 'deservability' take better care of themselves and make better decisions about sex.
Having a relationship with parents that feels close, safe, respectful, trusting and open allows kids to talk about what's going on in their friendships and lives and about tough decisions they are facing. The quality of your relationship with them is what dictates how much influence you have in all matters, including sexuality.
So the actual 'talk'  talk, the anatomy and intercourse talk, is in my mind the least important part of sex education. Key components of sex education that can be covered over the course of many conversations throughout childhood include talking about friendships, intimacy, relationships, boundaries, integrity, internal alarms, making choices based on what's right for you, self esteem and deservability.
Take the pressure off yourself about having the perfect, one-time talk and instead enjoy the ride.  
 
Dr. Tim Jordan and his wife, Anne Jordan, run personal growth weekend retreats and summer camps (Camp Weloki) for kids in grade school, middle school and high school and his private practice is in Chesterfield. To find out more, call (636) 530-1883 or go to www.weloki.com.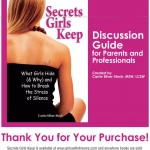 Secrets Girls Keep:  What Girls Hide (& Why) and How to Break the Stress of Silence by Carrie Silver-Stock (HCI) is a must read book for teens and their parents.  This book written for teens talks about all of the issues teen girls face today from body image, boy problems, family stuff, peer pressure, bullying, and  much more! 
Even though it was written for the teens, many parents and professionals who work with teens (teachers, librarians, school counselors, principals, and school social workers) will want this book!  At the end of each chapter it features a Think About It and Try It section that make it very easy to incorporate into discussions, book clubs, group work, or other student gatherings. 
"As media and commercial culture is putting increasing pressure on girls to conform to standards that can be very harmful to themselves and their relationships with others, Secrets Girls Keep gives teen-age girls down-to-earth, practical, heartfelt advice that will empower them to resist the pressure and take care of themselves and others in these hard to grow up times.  Parents will thank Carrie Silver-Stock for giving them this book to give to and discuss with their daughters."  Diane Levin, Ph.D., Professor of Education, Wheelock College, Author of So Sexy So Soon
Carrie Silver-Stock has now put together a Discussion Guide for Secrets Girls Keep that will be available on Tuesday 11/3 for FREE when you purchase Secrets Girls Keep through the special offer page on www.girlswithdreams.com.
If you would like a FREE discussion guide as well as many more freebies, visit Girls With Dreams Tuesday 11/3 and buy the book! 
Here are some of the other FREE Bonuses you will get with your purchase:
FREE downloadable 11 page Discussion Guide and Companion to Secrets Girls Keep
FREE downloadable 8×10 Girls With Dreams Manifesto Poster
FREE 20% off Coupon towards purchase at Artistic Sensations.com (A Teen Boutique)
FREE Teen Room Makeover Tips by Kim Gellman at Artistic Sensations
FREE Parenting Tips by Dr. Tim Jordan, M.D.
FREE Ebook How to Communicate with Teens and Tweens 101 by Vanessa Van Petten
More of what people are saying about Secrets Girls Keep:
"After reviewing Secrets Girls Keep, I have recommended it to several people.  Anyone who has a girl in their life should read Secrets Girls Keep because it's more than a book – it's a workbook, filled with insight and thought-provoking questions.  Carrie's book should be the bible for every school counselor."
Line Brunet, CLC, MFDC, MSLC, Life & Family Empowerment Coach, www.BlogTalkRadio.com/FamilyFocusCoach
"Secrets Girls Keep is compelling in its honesty, openness, and just plain good sense.  Written for teenage girls, who face pressures that are almost impossible to imagine, it models getting beneath the silence and shame that all too often accompany life problems (e.g., loss, sex, abuse, eating problems, mood disorder) and actively engages them in self-exploration and disclosure.  A vitally important book." Stephen Hinshaw, Ph.D., Professor and Chair, Department of Psychology, UC Berkeley; author of The Triple Bind: Saving our Teenage Girls from Today's Pressures
"At a time when we're all looking for change, we can't forget the coming generations of young women in our world.  Carrie's book isn't a "How-To" book, it goes much deeper, providing first hand examples of why it might be a difficult journey for young women in today's world, but not an impossible one. The Seven Tips should be memorized by everyone who is a preteen girl or knows one." Magi Henderson, Glen Carbon Centennial Library, Youth Services Director
Tim Jordan, M.D. wrote this piece on Body Image & Girls (What Parents Can Do To Support Their Daughters)
I recently taught a weekend retreat for Middle School girls, and was impressed with the amount of pressure they were under.  Dr. Stephen Hinshaw, in his new book "The Triple Bind", describes three challenges facing teen girls today:  Be good at all the traditional girl stuff; be good at most of the traditional guy stuff; and conform to a narrow, unrealistic set of standards that allows for no alternative.  My middle school girls shared a lot about how these challenges play out for them in everyday life. 
One challenge they face is body image issues; loving and accepting the way you look.  This involves their height, weight, size of their breasts and bottoms, complexion, hair color and style, and overall attractiveness to guys.  Most of them are so self conscious about their bodies, and constantly compare themselves negatively to peers and women in the media and it's no wonder. 
Back in 1951, Miss Sweden won the Miss Universe contest.  She was 5'7" and weighed 151 lbs.  In 1983 another Miss Sweden won the same contest, but she was 5'9" and weighed 109 lbs.  There was a huge shift in the 60's about what defined beauty; Marilyn Monroe was out and Twiggy was in.  Today's average woman at 5'4" and 145 lbs has an impossible task to measure up to the average model who comes in at 5'10" and 110 lbs.  And young girls feel this pressure to live up to unrealistic expectations. 
We can harp all day long about the effects of media and culture; early sexualization, mass marketing to young people, unhealthy and unrealistic images of beauty.  But of far greater influence we need look no further than your home.   
I challenge every mom reading this to imagine that your daughter shadows you for an entire day, writing down all that you say and do in regards to body image.  What would you want her to see and hear?  What would she observe?  When I asked the middle school girls on parent day how many of them had heard their mother's talk negatively about their bodies, every one of their hands shot up. 
So with my limited space left here let me throw out a few suggestions about how to support your pre-teen and teen daughters with their body image challenges.  First, encourage them to develop some creative outlets, whether that is journaling or writing poetry; writing or playing music, drawing, etc.  These outlets help girls to self quiet and then check in with themselves and reflect on who they are and what they want.  It also allows healthy outlets for all of their feelings, which they have in multitude. 
Girls also need their parents, and in particular their dad, to affirm all parts of themselves, i.e. their energy, wisdom, perseverance, common sense, etc.  And to talk about their bodies more in terms of function vs. looks.  How often do you hear comments from adults to girls be primarily about how cute they look or about their outfits? 
Girls need to see their mom's model taking good care of themselves, have positive self talk about their bodies, and to be content with who they are.  Stop talking about weight and dieting and focus on healthy nutrition and exercise. 
The middle school girls at my retreat loved talking about these issues openly with their peers.  So many teen girls think they are the only ones who are struggling with self acceptance and insecurities.  They need safe places to talk and vent and get information to help them work through these issues.  I want them to feel safe to talk to their parents about their feelings and what's on their minds.  Learn to be a non-judgmental listener. 
Finally, it helps if girls can find a passion that they can pour their heart and soul into; some kind of project or cause with a higher purpose than looking good or being popular.  A lot of feelings of competence and fulfillment come from being of service and making a difference. 
It's a weight issue (ha!), but there is much we can do to support teen girls in overcoming cultural pressures about how they should look. 
Dr. Tim Jordan and his wife, Anne Jordan, run personal growth weekend retreats and summer camps (Camp Weloki) for kids in grade school, middle school and high school and his private practice is in Chesterfield. To find out more, call (636) 530-1883 or go to www.weloki.com.