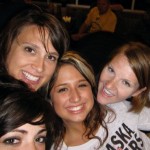 Lunch tables. They may just be the definition of middle school. Although it's just two words, "lunch table" might as well be "social outcome" or "major problem". They can be fun places, filled with jokes and fun, but what are you supposed to do when your lunch table isn't the right fit for you?
This happened to me and four really close friends this week at school. It actually didn't start as us wanting to switch tables, we just wanted to surprise our friend at another table for a day. Before we knew it, we started looking back to our other friends at the old lunch table and what were we getting? What looked like death glares, and telepathic messages saying "we  don't want you back, you can stay there." Sure, maybe that wasn't the message they were trying to send, but it sure seemed like it. My friends and I decided that we would stay there, there was less to stress about anyway, having a smaller, tighter-knit group of girls.
Through all of this, I've realized that I really don't like lunch tables. Yeah, they're fun, you sit with your friends, and everyone's happy. But there's so much stress built onto them. It's like can't girls just sit where they want without the whole school watching? So much attention is drawn to them, it's unbelievable. When my friends and I switched this week, random kids in the hallway we didn't even know began walking up and saying, "I heard World War III is happening at your table… what did you do to those girls?" This, of course, made me and my friends really mad. Not only did he have no idea what was going on, but neither did we. We didn't mean to start "World War III" or whatever people wanted to call it.
I'm still quite unsure about how this lunch table thing is going to work out. We don't want to sever any ties between our friends at the other table, we still valued their friendship. I hope that's not the outcome. I don't want to lose friends over this, and although I have four really great friends that I've seemed to rediscover, it doesn't have to be the end of some pretty great times. I'm still eagerly awaiting what's to come this next week at school, and hoping that it won't be anything worse than World War III.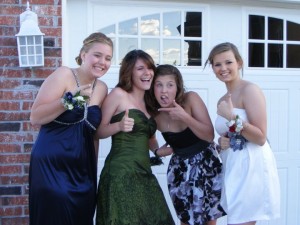 We've had alot of fun the last couple of years talking about prom!  Over the next few weeks we'll be sharing links to some of our favorite blog and video posts.  Meanwhile, we'd love to hear any questions you have about prom.  Just make a comment or email us at info@girlswithdreams.com.
How to Find a Great Prom Dress On a Budget
The Cinderella Project:  Help other girls with your old prom dress or find one if you need a little help!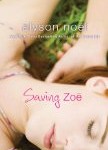 Saving Zoe expresses the thoughts of 15 year old, Echo, trying to heal after her sister was brutally murdered. As Echo tries to complete the healing process she finds herself trying to re-live her sister's life. When her sister's boyfriend contacts Echo a year after the tragety, Echo quickly realized there is a lot of secrets that her sister had been keeping. Throughtout the book Echo is challenged with the internal conflict of trying to find herself and trying to find out who her sister was.
Alyson Noel does a great job at keeping the readers attention. The suspenseful drama is captivating. I would recommend this book for any teen looking to read something new. It is also easy to do a book report for.  Get more information about Saving Zoe on Amazon.com.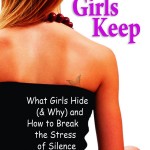 In case you missed our fabulous Girl Talk event with Moms and Daughters, you can see videos and find out more about what we shared in a recent article by the Patch-Ladue. 
Also, founder of Girls With Dreams, Carrie Silver-Stock, MSW, as well as author of Secrets Girls Keep, was featured as a notable neighbor in the Patch-Chesterfield.  Find out why Carrie knows the Secrets Girls Keep.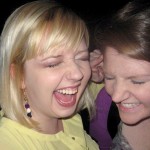 Everyone has thier "lazy days" when you just can't decide what to do with your hair. Well her are some easy up-do's that might help.
First, the Fishtail Braid. This is a unique braid that looks great when your dealing with long hair.
You want to make sure that your hair is a little damp. Next, seperate your hair into two even parts. Then take a piece from the back of your first part and cross it over a piece from the back of your second part. Make sure you pull the hair tight as you braid. Continue to grab pieces from the back of each part and overlap them.
 This video will show you how to do the Fishtail Braid.
Another quick and easy option is the Messy Side Bun.
All you have to do is pull your hair to one side. Begin twisting your hair tight. Once its all twisted wrap it in bun form and secure it wit