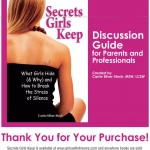 Secrets Girls Keep:  What Girls Hide (& Why) and How to Break the Stress of Silence by Carrie Silver-Stock (HCI) is a must read book for teens and their parents.  This book written for teens talks about all of the issues teen girls face today from body image, boy problems, family stuff, peer pressure, bullying, and  much more! 
Even though it was written for the teens, many parents and professionals who work with teens (teachers, librarians, school counselors, principals, and school social workers) will want this book!  At the end of each chapter it features a Think About It and Try It section that make it very easy to incorporate into discussions, book clubs, group work, or other student gatherings. 
"As media and commercial culture is putting increasing pressure on girls to conform to standards that can be very harmful to themselves and their relationships with others, Secrets Girls Keep gives teen-age girls down-to-earth, practical, heartfelt advice that will empower them to resist the pressure and take care of themselves and others in these hard to grow up times.  Parents will thank Carrie Silver-Stock for giving them this book to give to and discuss with their daughters."  Diane Levin, Ph.D., Professor of Education, Wheelock College, Author of So Sexy So Soon
Carrie Silver-Stock has now put together a Discussion Guide for Secrets Girls Keep that will be available on Tuesday 11/3 for FREE when you purchase Secrets Girls Keep through the special offer page on www.girlswithdreams.com.
If you would like a FREE discussion guide as well as many more freebies, visit Girls With Dreams Tuesday 11/3 and buy the book! 
Here are some of the other FREE Bonuses you will get with your purchase:
FREE downloadable 11 page Discussion Guide and Companion to Secrets Girls Keep
FREE downloadable 8×10 Girls With Dreams Manifesto Poster
FREE 20% off Coupon towards purchase at Artistic Sensations.com (A Teen Boutique)
FREE Teen Room Makeover Tips by Kim Gellman at Artistic Sensations
FREE Parenting Tips by Dr. Tim Jordan, M.D.
FREE Ebook How to Communicate with Teens and Tweens 101 by Vanessa Van Petten
More of what people are saying about Secrets Girls Keep:
"After reviewing Secrets Girls Keep, I have recommended it to several people.  Anyone who has a girl in their life should read Secrets Girls Keep because it's more than a book - it's a workbook, filled with insight and thought-provoking questions.  Carrie's book should be the bible for every school counselor."
Line Brunet, CLC, MFDC, MSLC, Life & Family Empowerment Coach, www.BlogTalkRadio.com/FamilyFocusCoach
"Secrets Girls Keep is compelling in its honesty, openness, and just plain good sense.  Written for teenage girls, who face pressures that are almost impossible to imagine, it models getting beneath the silence and shame that all too often accompany life problems (e.g., loss, sex, abuse, eating problems, mood disorder) and actively engages them in self-exploration and disclosure.  A vitally important book." Stephen Hinshaw, Ph.D., Professor and Chair, Department of Psychology, UC Berkeley; author of The Triple Bind: Saving our Teenage Girls from Today's Pressures
"At a time when we're all looking for change, we can't forget the coming generations of young women in our world.  Carrie's book isn't a "How-To" book, it goes much deeper, providing first hand examples of why it might be a difficult journey for young women in today's world, but not an impossible one. The Seven Tips should be memorized by everyone who is a preteen girl or knows one." Magi Henderson, Glen Carbon Centennial Library, Youth Services Director
Just in case you didn't catch our tips on how to make this a great halloween with your friends, we thought we'd remind you!  We have recently shared some great tips on how to find a costume on a budget to fun ideas you can try with your friends this Halloween! 
Our Girls With Dreams Team talks about Fun Ideas for Halloween Weekend.  Or, you can read more great tips on costumes, parties, and more for Halloween right here.
Have a Safe and Happy Halloween!
Another author I love, Deborah Reber,  who also writes books for teens and founded Smart Girls Know, had a very interesting post.  It's the 25th anniversary of her 15th birthday so she wrote a letter to her younger self.  I loved it and I think you'll love it too, whether you are about to turn 15 or are getting ready to graduate from high school, it has great reminders for the teen in all of us!  You can read it here.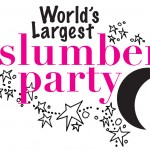 Whether you're having one person at your slumber party or 20, we have just the answer to help you get ready for when you join Girls With Dreams at the World's Largest Slumber Party November 14 8PM CST!  We have created a FREE Slumber Party Captain Kit you can download right here:  girls-with-dreams-captain-kit.
Feel free to share more of your fun recipes and ideas with other girls who are having their own parties on our Slumber Party Facebook page!
This is one of the top tips Carrie reveals in her new book Secrets Girls Keep. 
It's so easy to miss out on sleep, get carried away with junk food, and not take good care of yourself.  But, Carrie shares some simple ways you take better care of yourself. 
Simple things like drinking more water, sleeping 8 hours a night, and eating less junk food and more fruits and veggies can go a long way in helping you feel better!  The key is to do this consistenly, not just try it a few times and then get back to old habits.
Tim Jordan, M.D. wrote this piece on Body Image & Girls (What Parents Can Do To Support Their Daughters)
I recently taught a weekend retreat for Middle School girls, and was impressed with the amount of pressure they were under.  Dr. Stephen Hinshaw, in his new book "The Triple Bind", describes three challenges facing teen girls today:  Be good at all the traditional girl stuff; be good at most of the traditional guy stuff; and conform to a narrow, unrealistic set of standards that allows for no alternative.  My middle school girls shared a lot about how these challenges play out for them in everyday life. 
One challenge they face is body image issues; loving and accepting the way you look.  This involves their height, weight, size of their breasts and bottoms, complexion, hair color and style, and overall attractiveness to guys.  Most of them are so self conscious about their bodies, and constantly compare themselves negatively to peers and women in the media and it's no wonder. 
Back in 1951, Miss Sweden won the Miss Universe contest.  She was 5'7" and weighed 151 lbs.  In 1983 another Miss Sweden won the same contest, but she was 5'9" and weighed 109 lbs.  There was a huge shift in the 60's about what defined beauty; Marilyn Monroe was out and Twiggy was in.  Today's average woman at 5'4" and 145 lbs has an impossible task to measure up to the average model who comes in at 5'10" and 110 lbs.  And young girls feel this pressure to live up to unrealistic expectations. 
We can harp all day long about the effects of media and culture; early sexualization, mass marketing to young people, unhealthy and unrealistic images of beauty.  But of far greater influence we need look no further than your home.   
I challenge every mom reading this to imagine that your daughter shadows you for an entire day, writing down all that you say and do in regards to body image.  What would you want her to see and hear?  What would she observe?  When I asked the middle school girls on parent day how many of them had heard their mother's talk negatively about their bodies, every one of their hands shot up. 
So with my limited space left here let me throw out a few suggestions about how to support your pre-teen and teen daughters with their body image challenges.  First, encourage them to develop some creative outlets, whether that is journaling or writing poetry; writing or playing music, drawing, etc.  These outlets help girls to self quiet and then check in with themselves and reflect on who they are and what they want.  It also allows healthy outlets for all of their feelings, which they have in multitude. 
Girls also need their parents, and in particular their dad, to affirm all parts of themselves, i.e. their energy, wisdom, perseverance, common sense, etc.  And to talk about their bodies more in terms of function vs. looks.  How often do you hear comments from adults to girls be primarily about how cute they look or about their outfits? 
Girls need to see their mom's model taking good care of themselves, have positive self talk about their bodies, and to be content with who they are.  Stop talking about weight and dieting and focus on healthy nutrition and exercise. 
The middle school girls at my retreat loved talking about these issues openly with their peers.  So many teen girls think they are the only ones who are struggling with self acceptance and insecurities.  They need safe places to talk and vent and get information to help them work through these issues.  I want them to feel safe to talk to their parents about their feelings and what's on their minds.  Learn to be a non-judgmental listener. 
Finally, it helps if girls can find a passion that they can pour their heart and soul into; some kind of project or cause with a higher purpose than looking good or being popular.  A lot of feelings of competence and fulfillment come from being of service and making a difference. 
It's a weight issue (ha!), but there is much we can do to support teen girls in overcoming cultural pressures about how they should look. 
Dr. Tim Jordan and his wife, Anne Jordan, run personal growth weekend retreats and summer camps (Camp Weloki) for kids in grade school, middle school and high school and his private practice is in Chesterfield. To find out more, call (636) 530-1883 or go to www.weloki.com.
If you are an aspiring teen writer or author, you will definitely want to check out the new memoir series Lounder than Words!  The cool thing is, editor Deborah Reber, is looking for more teen authors.  You can find out more by visiting the Louder Than Words website!
We did our own teen review of one of the books here at Girls With Dreams.  We talked with Emily Smucker about her book, Emily.
1. Take a dum dum lollipop and cover it with a tissue.
2. Tie it with a string where the stick meets the lollipop.
3. Put a face on the tissue.
4. Then you have a ghost.
You can add other decorations to it, but it's so simple for Halloween and kids will love them.  You can even make it a gift or decoration and put it in a bottle, then you have boo's in a bottle!
We're counting on seeing you at the World's Largest Slumber Party on Saturday November 14, 8PM CST.  All you need to do is grab your girlfriends and your computer and join us! 
We have lots of fun things planned from DIY spa treatments, dancing, teen room makeover contest  where you can enter to win (sponsored by Artistic Sensations), fun food, and more!  Most important, we're trying to collect hundreds of NEW pajamas and books for the Pajama Program.  Thousands of children of all ages are in need of NEW pajamas and books.  Any size pajamas is great, they just need to be NEW!
Do you have your NEW pajamas ready to donate?  If you prefer, you can make a money donation to the program right here.  Or, if you are collecting pajamas at your party, just visit the Pajama Program website to find out how you can give them to the chapter closest to you! 
Once you're ready with your NEW pajamas, grab your girlfriends and join our special Facebook group if you'd like to be a Slumber Party Captain and have your own party.  Captains will be eligible for great prizes and participants in the World's Largest Slumber Party will be able to register to win a Teen Room Makeover!
If you are a senior and are worried about preparing for college, I made a few tips for you. This past week it just hit me that college is right around the corner and I still have so much to do. I am a little bit freaked out but scared at the same time so here are some tips you could go by.
1. Pick out your top favorite schools. A great website to help with this is College Board.
2. Sign up for a day to go visit the college with your family. Your school will probably even let this be a field trip day if you fill out a form. It's best to visit a college during the week when classes are in session.
3. Apply to the colleges you think you like the best. You will get accepted =] if not it's ok!
4. After you have gotten accepted sign up for the dorms. Be careful cause some colleges first group for the dorm deadline is this month. Most colleges all you have to do is put a down payment down. (you don't even have to be sure that is where you want to go to college).
5. You should be able to pick your room in the end of the year. So to prepare for it I would get everything for your dorm ready. Talk to your room mate to make sure you guys don't both bring the same things!
This is all I have for now. I just went through the first couple steps myself recently. I have visited Mizzou and am getting ready to sign up for my dorm =] EXCITING. As it gets closer to going off to college I can do more of these when more deadlines approach!
P.S don't forget to apply for scholorships. =]