Burt's Bees lip balm is one of the best chap sticks I have every used! Honestly, I love this product and I recommend it to everyone. It makes your lips feel really good and gives them a cool tingly feeling. They also have other great products too, pretty much anything from that company is worth buying. You can find their products at Walmart, Target, Bath and Body Works, or go to their website and take a look.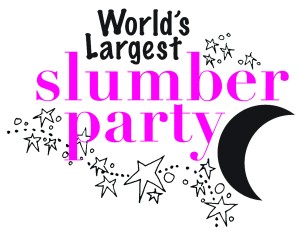 Have you been wondering how you can be part of the World's Largest Slumber Party?
Carrie Silver-Stock, founder of Girls With Dreams.com is interviewed about the World's Largest Slumber Party, Nov 14, 2009.  This live, virtual event will unite teen girls and help collect NEW pajamas for the Pajama Program.
Grab your girlfriends and join our special Facebook group if you'd like to be a Slumber Party Captain and have your own party.  Captains will be eligible for great prizes and participants in the World's Largest Slumber Party will be able to register to win a Teen Room Makeover!
Girls With Dreams is hosting the World's Largest Slumber Party on Saturday November 14th, uniting teens virtually all over the world.
Slumber Party Participants who go to the Girl With Dreams home page during the event and sign up, will be eligible to win these grest prizes:
-3 pack of sweetriot chocolate donated by www.sweetriot.com  
-Cool ear buds donated by www.techspotstore.com
-Cool animal print picture frame and matching fuzzy mirror donated by www.artisticsensations.com
-Fun pink photo album donated by www.artisticsensations.com
-Itunes gift card donated by the www.girlswithdreams.com team
-Fun nail spa pack donated by the www.girlswithdreams.com team
-A copy of the new book, Secrets Girls Keep: What Girls Hide (& Why) and How to Break the Stress of Silence
-a Teen Room Makeover donated by www.artisticsensations.com
-Purple picture frame, candles, and photo calendar donated by Girls With Dreams
Wanna know how you can WIN and JOIN US?
It's so easy!   Grab your girlfriends and join us from the comfort of your own home!  Streaming live from Slumber Party headquarters in St. Louis, Missouri http://www.ustream.tv/channel/world-s-largest-slumber-party and with teen slumber party captains in each state, the party will include celebrity interviews, DIY spas, a dance party, a teen room makeover contest, movie marathon and much more!  Participants will also donate pajamas to The Pajama Program, an organization that provides new, warm PJ's to children worldwide.
Make sure you join up with Slumber Party Headquarters and other teens on Facebook.  If you want to join us in contributing to the Pajama Program, you can donate here.
 Are you tired of your bedroom?  Is it disorganized?  Or maybe a little out dated?  How would you like to win a Room Makeover for your bedroom? 
In conjunction with the World's Largest Slumber Party hosted by Girls With Dreams, Artistic Sensations is sponsoring a Teen Room Makevoer Contest.  Here's how it works and how you can win!
October:  Cast Your Vote for which of our Girls With Dreams Team Members is in need of the biggest makeover.  You'll be able to get tips for your own room and help re-decorate the winners room with your votes. 
November:  Watch for the Big Reveal of the new room at the World's Largest Slumber Party on November 14 and that night you will be able to enter to WIN your very own room makeover!
Watch for more details about the contest right here at www.girlswithdreams.com and at www.twitter.com/girlswithdreams.
Make sure you're set up to join us with your girlfriends Saturday November 14!
Hey girls! Here's are the lyrics to a song I wrote recently. Just felt like sharing it! I'm sure you all can identify with it! Let me know your opinions on it!
I'm falling behind
In math and history
I smile to myself
when he looks at me
I can't seem to breathe
he's got a hold on me
and i don't want to be set free
He is Why
I draw hearts all over my papers
He is why
I'm never able to fall asleep at night
He Is Why
I take so long in the mornings
He Is Why
I can't concentrate in class
He Is Why
I think I'm fallin' in love
He is why
I hardly get a glance and
my heart hurts
somehow he snuck up from behind
and now I can't seem to get him out of my mind
He is Why
I draw hearts all over my papers
He is why
I'm never able to fall asleep at night
He Is Why
I take so long in the mornings
He Is Why
I can't concentrate in class
He Is Why
I think I'm fallin' in love
He is why
Hey boy, do you know you're irresistible?
I don't think you realize
what you've done to me mmhmm
can you tell that I'm
not the same
when I'm with you oooooh
He is Why
I draw hearts all over my papers
He is why
I'm never able to fall asleep at night
He Is Why
I take so long in the mornings
He Is Why
I can't concentrate in class
He Is Why
I think I'm fallin' in love
He is why
He is why
I am writing down this song
he is why
I do the things i do
hey boy
I do them for you
We all make mistakes. No one is perfect and everyone deserves a second chance.
We hear it all the time, but we never do it! Take a minute and think about the times you wanted a second chance, you wanted to prove to someone you can do something. It happens to all of us and we all want someone to forgive and forget something. Sometimes a fresh start is good. We all need a break every once in a while. Sometimes we get wrapped up in little stupid things. Don't let one mistake ruin a friendship or a relationship. Give everyone a second chance.
Step back and think about someone you know who might need a second chance. Let them know you understand that they made a mistake and that you are willing to forgive them. Sometimes when we make a mistake, that's the time we need our friends the most. And sometimes the people we hurt the most are the ones we need the most forgiveness from.
Ever since I was younger I have told myself I would wait to have sex until I was married. And even now as an 18-year-old, I still stand behind my word. In the ninth grade,one of my good friends put down me and one of my best friends for not having sex. Ever since then, I've realized that what other people think about me doesn't matter.
I stand by my word for many reasons. When you talk to some people they might think that it's because I'm a Christian. And though I choose to stick by my religion when making the choice. Religion is not the only reason behind me choosing to stay a virgin.
One of the reasons I chose to wait is because of all the consequences involved in having sex, such as being a teen mom or contracting a sexually transmitted diseases. Why take your chances on any of these?
Another reason I chose to wait is because sometimes it can give you an image you may not want for yourself. If you have sex with one guy and then break up…why not have sex with your next boyfriend? To me this is what girls attitudes are when it comes to having sex. What kind of image do you think this gives of you to guys? Don't you want to be liked by a guy for who are? Not how far you are willing to go with them?
My last reason I chose to wait to have sex is because it only makes your relationship with a guy more complicated. We are in high school, why would you want such a complicated relationship? Have fun with your boyfriend but don't put a seriousness on a relationship when you are probably not ready for it. I have a boyfriend and I have been with him for two and a half years. We have a serious relationship but not in the way that makes it complicated. He's two years older then me and we still choose to wait to have sex because we are not ready.
I plan to save myself for many reasons.
       Girls With Dreams is so excited about the new teen memoir series, Louder Than Words (HCI), because it gives power to the teen voice.  Teens will love hearing the unique stories of Emily, Chelsey, and Marni, the 3 young women who are authors of each of the new memoirs, edited by Deborah Reber.  Girls With Dreams is excited to bring you an interview with each of the authors.  We hope you enjoy the books as much as we did!
  Emily Smucker was an average high school senior, with a very unusual diagnosis. This 160 page novel (including an one page epilogue) is told in a diary or blog like format. It made the book so much more personal and really keeps the readers interest. I found myself privileged enough to interview Emily and get to know her on a more personal level.
          This is about shear inner strength, a very positive and empowering story. Emily commented when asked about her continuously positive attitude, "Because of my faith I knew that somehow something good was going to come out of the horror (though I never even came close to imagining that it would be a book), and my family, well, they kept my [life] from getting too boring." Emily has a large family, which she claims to be her support network. An amazing feature of this book, is that it has so many different dynamics to it. Not only is it about a teen trying to find herself among chaos, but about the close relationships and their impacts on a  teens life. When asked about how she could turn such a devastating illness into anything positive, Emily smartly said, " It wasn't until the book deal fell into my lap that I was able to feel like the lemons were turning into any sort of lemonade."
         During the beginning part of her Senior year, Emily was diagnosed with the rare West Nile virus. At first she reacts with fear and disbelief, then goes into a state of self denial. But rather than wallowing in self pity she is able to begin to see things differently, and begins to make the best of a horribly impossible situation. I asked Emily what some her biggest concerns were, " My future was the biggest thing. I felt like I would be sick forever and never have any sort of life. At the beginning of my sickness I worried so much that I could hardly function, and it wasn't until I prayed about deeply that I was able to deal with it."  Her story is very empowering, a must read for every teen. Emily has shown true strength and courage, by telling her story and sharing it with the teens of the world.
          Emily commented when asked if she had one thing she wanted every girl to know, " I wish I had something profound to say. Something that would make everyone stop and think. But I don't.
I wish I had advice for sick people. I mean real advice, about making a difference despite being sick. But I don't.
Well, maybe I do after all. You can blog. Sometimes people could identify with what I was saying, and that felt amazing. And in the end it gave me lots of material to put in a book.  If you have a friend who's chronically sick, my advice would be to go visit them. Take a friend or two along. Watch a movie. Play a game. Being sick is so boring, you long for social interaction. "
          This is the end of my blog post on Emily Smucker and her book in the  Louder Than Words series. I recommend this book to EVERYONE! And don't worry to those of you who have already read this and are looking forward to any new novel's by this courageous teen. Emily is working on a story about an adventurous teen Named Lola, and how she is trying to build a new life on top of the old life she was running away from. I think I speak for all of us girls when I say, I'm excited and ready to read more!
I want to go to Homecoming, but I don't have a date. So now what?
Answer from the Girls With Dreams team:
Don't sweat it!  Here's a few things you might consider:
Boost your own confidence. Many girls think there must be something wrong with them when they don't have a date. Keep your head up high and take note of your best qualities. Are you athletic, smart, funny or all of the above? Ask your friends for help if you get stuck.
Consider going to Homecoming with a group of friends. You won't have to worry about what he's thinking as you and your ladies hit the dance floor.
You don't always have to wait for him to ask you. Think about doing it differently this year.
If you decide not to go to Homecoming, that's fine too. Just make sure you plan a fun night for yourself. Invite a friend over for a movie and manicures!
Remember, If you have a question for our team, email us at info@girlswithdreams.com and put ADVICE in the subject line. Look for more great advice from our teens on Girls With Dreams TV and in Carrie's new book, Secrets Girls Keep.
You asked for it, and we gave it to you! Email your questions to info@girlswithdreams.com with ADVICE in the subject line and our Girls With Dreams team will respond on our blog.
Whatever type of question you might have about your life as a teen, we are here to help. Your name and contact information will be kept confidential.