Summer seems to have lots of opportunities to eat junk food and snack often. I'm always trying to figure out what is good to eat, so I asked my friend Olivia to share her secrets.
Here are Dr. Olivia's tips for healthy eating:
1. Take a natural multi-vitamin daily.
2. Take an added mineral such as magnesium glycinate to support bones, muscles and nervous system development.
3. Take essential fatty acids such as EPA/DHA, also known as fish oil, to support nervous system development and mental health.
4. The best thing you can do is to avoid soda! Water, juice and tea are healthy alternatives. If these sound boring to you, try vitamin water or ruit water which come in a variety of flavors and brands.
5. Do your best to eat fresh fruit and veggies at least a couple fo times every day, and try to limit anything pre-made and pre-packaged.
6. Clif protein bars are a great alternative to candy bars and they can to help satisfy your sweet tooth. If you crave salty chips, try baked whole grain pita chips with hummus or baked blue corn chips with guacamole and salsa.
7. Snack on raw nuts such as almonds and walnuts. They're an additional way to get good fat, fiber and essential nutrients.
You can find out more about healthy eating and Dr. Olivia at www.wellnessconnection-ofallon.com
I have been thinking about friendship today. This week, 11 years ago, I was hanging out in Wisconsin with some of my closest friends getting ready to get married. It was a great time to be surrounded by so many of the people I loved. I'm grateful because all five women who stood next to me on my wedding day are still a part of my life.
Do I wish that I could see them more often and spend more time with them? Yes! Could I be a better friend to them at times? Yes.
I'm sharing this because friends are such an important part of our lives. I'm so grateful for the friends who have known me for 20 years and those I've just met recently. I've learned to be picky about real friends. My friends bring out the best in me and I hope that I help to bring out the best in them. My friends love me for who I am, whether I'm having a great day or not. My friends make me laugh and bring a smile to my face. My friends make the world a better place. I know that during your teen years it's very typical to have ups and downs with friends. How do you choose your closest friends? What do your friends mean to you?
I was at a lake this weekend with my family enjoying the sun, water and beauty. My boys loved fishing for the first time (thank goodness my husband can help them because I really wasn't into baiting their hooks with worms). I also enjoyed one of my favorite things, water skiing. One night my husband Steve and I were sitting on the porch looking out onto the lake as it was getting dark. Read more
The other day I was driving along Highway 94 (in St. Charles) and noticed they were building some kind of apartment complex. On one of the buildings, there was a huge banner that said "Missouri's First Green Development."
I'd like to hear all of your thoughts about this development. What makes a development "green?" Would you choose to live in a place that has made the effort to go "green?"
I've seen celebs wear "Go Green" t-shirts and many stores are selling or encouraging the use of reusable bags instead of paper or plastic. What's your take on this? Have you done anything to support this new cause
For more information, visit www.thinkgreen.com or greenopolis.com.
Take a look at all of the published information about The Powder Box Secrets and Girls With Dreams. Look for Carrie's bio, the book information sheet, major message points, press releases, interview information, and recent articles.
If you can't find what you need, please contact us at info@girlswithdreams.com or (314) 374-5795. Thanks!
I've realized that I haven't written anything in quite some time. Now that my school commitments have come to a close, its time to do some serious writing.
I wanted to tell you all about my upcoming plans for my first year in college. I'm really excited about it because I've realized that the best thing to do is GET INVOLVED. Its only June, but I've already gotten involved with my school. That's gotta be good, right? So here's what happened: I had registration day. Although you might think it would be extremely chaotic and stressful, it really wasn't. I listened to a few presentations, then decided on my first set of classes in college EVER! I met a woman who was carrying around my file, and she said I'd be perfect for a leadership "intro to college" program that they call "Pathways." Basically, it is a group of 16 freshman that live in the same dorm on the same hall and take 3 classes together to get to know each other. The courses are Critical Thinking, University 101, and a freshman seminar. I've also been working on finding a job around campus and getting ready to do my work study program.
One of the classes that sounds particularly intriguing, is "Deal or No Deal". Although, this class is not like the TV show, it's the ultimate challenge. The course has no topic whatsoever. The students make a proposal and then decide as a class what we want to accomplish during the semester. So, as I work on MY proposal for this class, I want to challenge all of you as well.
Here's the challenge:
What can you do to make yourself a leader at your school or community? There are so many possibilities. Be creative, spontaneous, and have fun! Get yourself out there and make your voice heard. Girls, this is our time to shine and no one can keep you from achieving your highest potential. We all have something to offer this world, so lets get out there and share it!
Get involved. Make new friends. Show 'em what you've got!
Do me a wonderful favor, comment below and let me know what you're doing! I'll keep you updated on what's going on with me too!
Also, make a summer goal for how much you want to accomplish in these few short months. Pick something risky and fun. You won't regret it, I promise!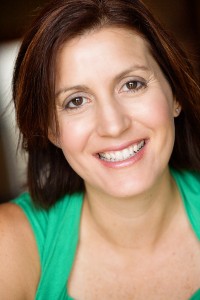 Carrie Silver-Stock, MSW, LCSW, author of the award winning, Powder Box Secrets: Seven Tips to Help Teen Girls Achieve Success, and founder and CEO of Girls with Dreams.com, has a dream of creating an amazing global community of teen girls. Carrie's forthcoming book, Secrets Girls Keep, published by HCI, best known for Chicken Soup and the Soul series, will be out in Fall 2009.
Carrie wants to start a movement and revolution for girls to not only stop putting each other down, but to design a safe place they can get new ideas and support for some of their toughest problems. The mission is simple: to create a place founded on friends, dreams, and action where girls will empower one another to build their best lives. Girls will learn how to be leaders and take action in their own lives and in the world.
Carrie has collaborated with organizations like Girls Inc. and the Girl Scouts. As a former radio talk show host, social worker, and life coach, Carrie has also appeared on Today in St. Louis (KSDK/NBC), ABC Radio, On the Road with IV, Guidelines for Mental Health (Cable TV), Women's Media, CKOM radio, Working Women's Show, numerous St. Louis venues, and has had articles published in a variety of media outlets. Carrie has taught at local colleges and presented workshops at University Missouri St. Louis. Carrie served as an advisory board member for the Go the Distance Project.
Carrie's favorite activities are spending time with her husband, two boys, and two dogs and staying active. She especially loves walking, boating, water-skiing, pilates, and hanging out anywhere near a beach, even though her current home is in St. Louis, Missouri.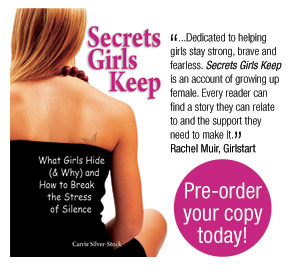 "Carrie Silver-Stock offers true, easy-to-tackle tips for teen girls to help them overcome some of the issues that affect them most—looks, boys, friends, and families." Read more
"Wow! I couldn't put this book down! Based on the real-life stories and the tips on boys, college, and much more, I'd recommend this book to every girl I know!" - Riley, 17
"Carrie's book on self-esteem for teen girls is a masterpiece of inspiration and insight into how young women can choose to transform their lives. Using real-life examples, she reveals the secrets to how girls can courageously turn adolescence into an amazing growth experience that will lead them to become happy, healthy, and productive women, just like Carrie. I can't wait to get copies of her book for all the teenage girls in my life!" - Beth Crumbacher, school administrator
"The Powder Box Secrets is like a breath of fresh air, and a break from all the mixed messages that are thrown at girls these days." - Kate O'Toole, former editor-in-chief of Louie Magazine for St. Louis teens
"This book is filled with great advice, fun stories, and everything a teen girl wants to know." - Lauren, 13
"Carrie Silver-Stock offers true, easy-to-tackle tips for teen girls to help them overcome some of the issues that affect them most-looks, boys, friends, and families. This book is as insightful as it is inspiring and sends the message every teen girl should know: love yourself for who you are and the world will love you back. It is a must-read for teens, their parents, and their teachers. This book is just that important." - Leah Messina, owner and editor of BookDivas.com
"I love the real-life stories and examples from girls like me." - Melinda, 15
"The Powder Box Secrets is a heartfelt and engaging book about the possibilities that lie within each and every one of us. It is wonderful to be you, and important to love yourself! Carrie helps us each explore that person we see each day when we look in the mirror, and understand some of the crazy thoughts that go through our heads as we cope with who we really are on the inside and out!" - Lizzy Dooley, high school field hockey coach
"As the host of www.WebSororityTalkRadio.com and a parent, I am always on the lookout for books that send a positive, empowering message to teen girls. The Powder Box Secrets should be required reading for every girl in middle and high school. Thank you,Carrie for sharing it with the world. It will make a huge difference to every girl who reads it." - Lynne Klippel host of www.lynneklippel.com
We are excited to announce our 2008-09 Book Tour. Contact us about coming to your city.
Here's a list of our stops. Stay posted, though. We'll be adding more cities soon
Milwaukee
Chicago
Boston
New York
Boston
Austin
San Francisco
Denver
San Diego
Contact us about Carrie's interactive workshop:
How To Stand Up For Yourself: Real Skills for Teen Girls' Everyday Problems:
Give the girls in your classroom or group the confidence they need to think for themselves. We all worry about our teens safety today. We all ask ourselves if we are we preparing teen girls to lead. When they are faced with peer pressure, getting good grades, or being put in harm's way, we want to know they will have the ability and confidence to make good decisions regardless of what their peers think.
Contact us for more information at info@girlswithdreams.com.