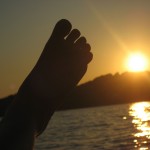 School's out for the summer! I can't believe it's over, but now the fun is beginning. To be honest, I sleep until noon. I lay around all day, and it's not really productive.
Waking up early will help make your summer more enjoyable.
Get up around 8, go for a morning jog, and then get your chores done like laundry and cleaning your room.
That'll leave the day for you to go to work and make money.
The night will be all yours to go out with friends.  Here are a few fun things to try:
Go cosmic bowling, putt-putting, Go out for banana splits, Camp in your backyard, Have a chick flick movie night, Play flashlight tag, volleyball, or a have a bonfire.
There is plenty to do over summer, but don't waste it WAITING for something to happen. Be safe and make the most of the days.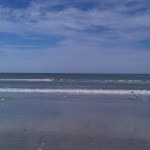 World Oceans Day is officially June 8th every year!  It's an opportunity to celebrate our oceans and our connection to the worlds oceans.  As teens who love going green, we are excited to support and celebrate this holiday!
Here are a few organizations to know about and other important facts about World Oceans Day!
-Join Mission Blue on Facebook!  This group is igniting public education and support for the worlds oceans.
-Find out what Jacques Cousteau would do about the oceans today in this article.
-Don't support captive dolphin and marine mammal shows, choose other options and find out 9 other ways you can honor World Ocean Day in this list provided by change.org. 
-Watch the movie the COVE!  A real life, action thriller about the dangers dolphins and other marine animals face from being captured.
-Find out how sharing a Blue Marble with someone can help save the ocean!
One of my favorite parts about summer is the food!
With BBQs, graduation, and Fourth of July around the corner… you'll be the hit of the party if you bring these sweets:
Pretzel Turtles (for 20) Prep Time:10 Min; Cook Time:4
Ingredients: 20 small mini pretzels, 20 chocolate covered caramel candies, 20 pecan halves
Preheat oven to 300 F. Arrange pretzels on a cookie sheet lined with parchment paper. Place a chocolate candy on each pretzel. Bake for 4 minutes. After you remove the cookie sheet, place a pecan on each pretzel while they're warm. Let cool before storing.
Ice Pops
Ingredients: Orange Juice, Fruit Punch, or Grape Juice; a ice tray or ice pop mold; popsicle sticks
These are the simplest to make. You can pour the juice into an ice tray, place popsicle sticks in each cube, then freeze.
4th of July Jello
Ingredients: strawberry jello mix (prepare it in a bowl), blue raspberry jello mix (prepare it in a seperate bowl), whipped cream, small cups
I made these for a pool party last summer, and they were gone in a matter of seconds. Make sure you store them in a fridge, and don't leave the tray of cups in the heat.
Pour the strawberry jello mix into the small cups to fill them up 1/3 the way. You'll need to put them in the fridge. Once they've chilled and are firm, you can pour the next layer of blue raspberry into the small cups. Place them in the fridge once again until they're firm. Right before you leave for the party… you can spray the whipped cream onto each cup.
This will create a layered, red, white, and blue effect.
Chocolate Covered Marshmallows(for 10)
Prep Time:10 Min;Cook Time:5 min
Ingredients: 2 cups semisweet chocolate chips, 10 large marshmallows, pan with waxed paper
Melt the chocolate in a microwave safe bowl. Dip the marshmallows in chocolate using a toothpick. Dip in chocolate sprinkles for an extra kick. Place on a pan lined with waxed paper and put them in the fridge until they're firm and frozen. Let the marshmallows sit 5 minutes before serving.
Chocolate Pretzel Rods
Melt chocolate in a microwave safe bowl. Dip 1/2 of a pretzel rod into the chocolate. Place on pan lined with wax paper. Make sure the chocolate has hardened before serving.
Check out http://allrecipes.com/ for more recipes. You can even choose the amount of people you want to serve, and it'll automatically adjust the recipe.
Summer break is about to start and many teens confess that freedom quickly turns to boredom. We've got your summer solution! Check out these tips from our team: